Wednesday, July 2nd, 2014...4:28 pm
Israel's 'surprising triumph'
Jump to Comments
The Lion's Gate: On the Front Lines of the Six Day War, by Steven Pressfield, Sentinel, 430 pages, $29.95
Reviewed by NEAL GENDLER
Taken on its own terms, as "hybrid history," The Lion's Gate is a very engaging immersion in the experiences and emotions of participants in Israel's first three wars.
Steven Pressfield, author of 12 previous books, interviewed 63 people over 370 hours and sliced their recollections into chronological placement.
"The focus is deliberately personal, subjective and idiosyncratic," and limited to a few units, he says. He didn't attempt a standard history or "pretend to document the 'facts' of the [1967] war," and he acknowledges up front that memory can be imperfect.
What he wants, he says, is "to be in the cockpit, inside the tank, under the helmet… the event as the man or woman experienced it."
He succeeds, as well as one can in print, especially with aviators. They and soldiers tell bluntly what it was like to fight — and to lose friends — in the 1956 Sinai campaign, and primarily in 1967's "Six-Day War," the surprising triumph in which nearly 800 IDF deaths often are overlooked.
Pressfield explains his unconventional approach, editing and sometimes rewriting interviewees' words; using material from their books and even from a documentary — and weaving them into spoken narratives.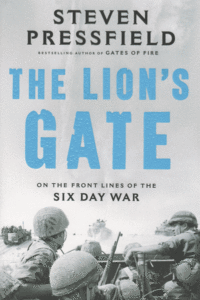 Done with interviewees' agreement and our knowledge, that's OK, but readers need caution with another device: Pressfield writes some sections as Moshe Dayan, who died in 1981. This chutzpa gives us interesting strategic overviews, including Dayan on the long-term effects of Israel's conquests.
These aren't fantasy; Pressfield's bibliography lists Dayan's books, two by daughter Yael and one by Dayan's wife, Ruth. Interviews include Dayan's contemporaries and Yael, a lieutenant with Sharon's forces in 1967. But what's Dayan and what's Pressfield's conjecture?
Still, The Lion's Gate — named for IDF's entryway to Jerusalem's Old City — is intriguing, emphasizing 1967's air attack, Sinai and Jerusalem. It excels at telling the strategy, tactics and combat of Israel's lightning, war-winning destruction of Arab airpower — the morning Israel's small air force destroyed airfields across Egypt "on the dot of 7:45."
"There is no navigation system in a Mirage," says Squadron 119 commander Ran Ronen. "The only computer is between my ears" to change headings for Cairo twice at 480 knots, just feet above the ocean. Approaching, "tug the stick into your belly, throttle up to full afterburner, 50-degree climb…. Approaching 6,000 feet you start gently to roll onto your back. Inverted, I see Cairo."
He disables the runway with two 500-pound bombs, and at 100 feet — lower than the hangar roofs — screams around at 550 knots to strafe parked MiGs.
The Lion's Gate's personal accounts include some easily detectable errors. A 1948 volunteer pilot says he arrived to find no aircraft, but Israel had small ones, just no warplanes. Another flier says that when the Arabs "drove our forces out of [Jerusalem's] Old City, they "killed every Jew they could find." Wrong twice. Jewish fighters, unable to continue, were in the Old City when it surrendered. The killing allegation, made again, is disproven by three of my Israel histories and especially photojournalist John Phillips, present for Life magazine.
Phillips' 1976 A Will to Survive tells and shows that under Jordan's disciplined Arab Legion, civilians were given an hour to pack and leave for the Jewish side; Jewish fighters were taken prisoner, and Jewish and Arab doctors treated the wounded. Serious casualties were transferred to a Jewish hospital.
A paratrooper says that the Arab Legion massacred every Jew in the four Gush Etzion kibbutzim. Almost all the defenders of Kfar Etzion were slaughtered; the other three kibbutzim surrendered. Their occupants were treated correctly as prisoners, legionnaires defending them from Arab mobs.
Horrors of war need no exaggeration; Pressfield should have seen and deleted these errors.
There may be others in these decades-old memories, but The Lion's Gate, with maps, photos and an index, is well worth reading. It's a compelling account of the achievement and feelings of an outnumbered people armed with enough competence, determination, weapons and courage to prevent a promised annihilation.
***
Neal Gendler is a Minneapolis writer and editor.
(American Jewish World, 7.4.14)