Wednesday, April 9th, 2014...4:42 pm
Israel's single mothers from the East
Jump to Comments
Israeli anthropologist Smadar Lavie returns to Minnesota to speak about her new book on Mizrachi mothers versus the bureaucracy
By MORDECAI SPECKTOR
In her new book, Wrapped in the Flag of Israel, Smadar Lavie, the offspring of an Ashkenazi father and a Mizrachi (or Mizrahi) mother, describes her physical appearance: "To all, I am a dark female form. A Mizrachi woman. And in the fauna and flora of Israel's professors, Mizrachi women are a rare species."
Lavie's book is subtitled "Mizrahi Single Mothers and Bureaucratic Torture"; and, as one might guess, the anthropologist and author takes an extremely dim view of how the State of Israel treats Mizrachi women. Lavie looks at attempts to protest the inadequacies of the social welfare system, starting with 43-year-old single mother Vicky Knafo's 2003 march on Jerusalem, and analyzes how such demonstrations have failed.
Mizrachim (Hebrew for "those from the East") constitute the majority of Israel's citizens, Lavie writes in the book's introduction. They are Jews from families with origins in the Arab and Muslim worlds, and on the edges of what was the Ottoman Empire.
"Mizrahim also constitute the majority of Israel's disenfranchised," writes Lavie. "Their parents immigrated to Israel mainly in the 1950s from places such as Morocco, Libya, Egypt, Lebanon, Yemen, Iraq, Iran, Pakistan, Turkey, Bulgaria, former Yugoslavia, and India."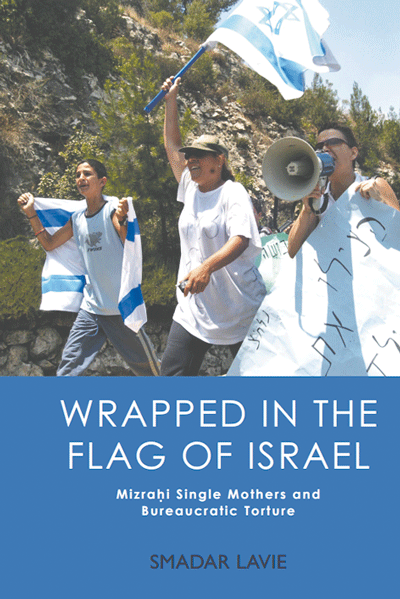 American Jews mainly think that the Israeli populace is divided up between the Ashkenazim, Jews of European ancestry, and Sephardim, our swarthier co-religionists. However, Lavie writes that Mizrachim "are often mistakenly called Sephardim, derived from the Hebrew word sfaradim (Spaniards). Sephardi (adjectival form) is a religious term," which refers to the nusach, the type of liturgical melodies for chanting Torah."The Sephardim are descendants of the non-Yiddish-speaking Jews who were expelled from Spain and Southern Europe in 1492, and they constitute only one group of Mizrahim. English-language media outlets used Sephardim rather than Mizrahim, so Sephardim has become the default international term," the author continues, and adds that Jews in the Diaspora "also use the term Sephardim, as opposed to Mizrahim."
In any case, Lavie will explain all of this and more when she returns to the Twin Cities for speaking engagements later this month.
She will speak about Wrapped in the Flag of Israel 12 p.m. Wednesday, April 23 at the Hubert H. Humphrey Center, Room 389, Blegen Hall, Room 235, on the U of M West Bank campus.
Lavie also will read and discuss her book 7 p.m. Thursday, April 24 at Mayday Books, 301 Cedar Ave., Minneapolis.
Her upcoming Minnesota visit will be a homecoming of sorts. Lavie was a Hubert H. Humphrey Distinguished Visiting Professor at Macalester College, from 2007 to 2009. She also was a visiting scholar with the University of Minnesota's anthropology department, and a visiting fellow at the U of M's Institute for Advanced Study, from 2010 to 2011.
Lavie is currently a visiting scholar at the Center for Middle East Studies at the University of California at Berkeley, which is where she received her doctorate in anthropology. In 2013, Lavie was the recipient of the Heart at East award — the Mizrachi alternative to the Israel Prize, which is "given almost always" to Ashkenazim, she points out.
While visiting family in Boston recently, Lavie took time for a telephone interview with the AJW, and discussed her new book, and what she views as the subjugation of Mizrachim by the State of Israel.
These problems go back to 1882, when the "Zionist movement brought the Yemenis to do most of the labor," said Lavie. "They distinguished [between] the chalutz, or the pioneer, who was Ashkenazi — who was an ideological laborer, oftentimes just writing about labor, like [Zionist ideologue] Alef Daled [A.D.] Gordon" — and the Yemenite Jews, who were genetically "destined for hard labor."
In the journals of early Zionists, who went to recruit Yemeni laborers, "what they talk about is very much parallel to narratives of slave markets and slave owners," Lavie noted. "They don't talk about Judaism, but they talk about muscle density, gum health; many Yemenis are short and they wanted the taller ones to bring to Palestine to work."
Lavie also made an analogy between the Yemenite Jews brought to pre-state Palestine to work and the Chinese immigrants who came to the West Coast of the United States in the 19th century to work on the transcontinental railroad.
Lavie said that she grew up in Holon, a town south of Tel Aviv. It's called "a satellite town," she said.
In Wrapped in the Flag of Israel, she weaves her personal story into the saga of Vicky Knafo, whose 2003 protest against the bureaucracy treatment of Mizrachi single mothers grabbed national press attention (during a lull in the Al-Aqsa Intifada, the 2000-2005 Palestinian uprising).
Lavie was dealing with "an acrimonious divorce," and then had to rescue her young son, who was suffering from depression. She returned to Israel. "Between 1999 and 2007, I was stranded in Israel," she writes.
Still, she distinguishes her relatively privileged upbringing to that of Knafo and many other Mizrachi single mothers. She was raised "in a largely Askenazi working-to-middle-class neighborhood," she writes. "My mother's marriage strategy… spared me the intergenerational poverty that had affected her own childhood in a Jerusalem slum, and that of her mother — my Yemeni granny who had been forced into child marriage at age eight."
As it turns out, in Lavie's telling, the Israeli government has a poor record in collecting child support payments from absent fathers. Mizrachi women, with little family support and meager government help, are in a real fix, according to Lavie. She also points out that, in contrast to the situation in the U.S., Israeli single mothers usually have been married for five to 10 years, and then divorced.
She writes, regarding her personal predicament some years ago in Israel, that scholars critical of Israeli policies face a "career risk."
"I was a Mizrahi anti-Zionist woman professor," Lavie writes. "In Israel, a pariah. No jobs for me."
In the epilogue to her book, Lavie looks back on the massive social protest in Israel that erupted in the summer of 2011. It was variously dubbed the "social justice protest" or the "tent protest" (for the occupation of Rothschild Boulevard in Tel Aviv) or "Tel Aviv's Tahrir" (in reference to the Cairo square that was the center of protests that toppled Egyptian dictator Hosni Mubarak).
Lavie writes that "tens of thousands of young Israelis, priced out of their rental leases or foreclosed upon, protested the state's slashing of public services, echoing the Single Mothers' Protest of 2003, but on a larger scale."
Just as "Knafoland," the 2003 protest encampment in Jerusalem, came to an end, the massive 2011 social justice protest "died a very quiet death," said Lavie.
She is quite downbeat about any positive political solutions for Israel's domestic problems or the Israeli-Palestinian conflict. "Everyone in Israel knows that the two-state solution is dead," she said, and added that Mizrachim reject the formulation of the "Ashkenazi left" land-for-peace policy. Adding to the disillusionment, relations between poor Mizrachi Jews living in the south Tel Aviv slums and African refugees, who have landed in that part of town, have come to a boil in recent months.
Pressed about anything hopeful in Israel today, Lavie allows that there's been a "big cultural renaissance now among Mizrachim." She said that Mizrachi cultural organizations — orchestras, theaters and literary journals — get more funding during Likud administrations, "because the majority of Mizrachim vote for Likud."
At least, there's that.
(American Jewish World, 4.11.14)