Wednesday, June 28th, 2017...12:12 pm
Operation Yellow Star and Black Thursday
Jump to Comments
Operation Yellow Star, by Maurice Rajsfus, (translated by Phyllis Aronoff and Mike Mitchell), and Black Thursday: The Roundup of July 16, 1942, by Rajsfus (translated by Aronoff), DoppleHouse trade paperback, 276 pages, $19.99
Reviewed by NEAL GENDLER
Seventy-five years have diminished neither Maurice Rajsfus' fury at the punctilious wartime collaboration of French police nor his distress at his countrymen's apparent indifference.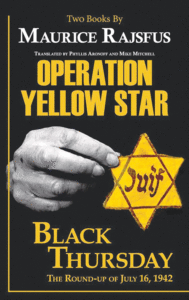 Anger, dismay and some sarcasm appear in Rajsfus' Operation Yellow Star and Black Thursday, two short books between the same covers. Yellow Star tells of its imposition, public reaction and the vigor of French police enforcement. Black Thursday begins with the July 16-17, 1942, roundup of 13,152 Jews, mostly foreign born, but soon turns to his frustrating attempt to find traces of that event in his suburban city of Vincennes' public records and memory.
France surrendered on June 22, 1940, splitting into a northern, German-occupied zone, and an unoccupied zone based in Vichy, controlled by Marshal Philippe Pétain's collaborationist government, to which French police swore allegiance. By war's end, more than 75,000 Jews had been deported from France.
Rajsfus calls the yellow star part of Germany's four-step anti-Jewish program: marginalization, branding, exclusion, elimination. He describes how branding Jews with patches or clothing dates to medieval times. In 1942, Jews (who were already forbidden to own radios, enter entertainment venues, use telephones or enter stores except from 3 to 4 p.m.) were ordered to go to police stations by June 7 to receive three stars per person – paying a clothing-ration coupon – for immediate wear.
Police discouraged gentiles' interaction with Jews, and newspapers fed a steady diet of hatred, asking that people inform against Jews and that the oppression be increased. Rajsfus devotes 12 pages to examples, Au Pilori saying: "At a later date we will suggest other prophylactic and sanitary measures" and later, "Now is the time to take up the club and bring it down on the spines of the Jews … It is time to employ other means to rid ourselves of these Jewish vermin."
Zealous police stopped starless people they thought looked Jewish, arresting any who were. "The racist nature of this step is obvious," Rajsfus says. "The policemen of France were nothing more than an adjunct to the Gestapo operating in French uniform."
It's fair to ask whether — other than quitting — they had any choice. Refusing to obey an immoral order in a democracy is one thing, but perhaps quite another with the Gestapo looking over your shoulder.
Yet, "nothing obliged these public servants to go beyond their orders … constantly on the lookout for victims," Rajsfus says. Police "made an effort to render the repression harder, even more inhumane."
Yellow Star includes arrest records and correspondence — translated on facing pages — plus examples of fake stars, although not my favorite from the text, one containing the word "goy."
The last chapter is mostly a tirade against police in general, not surprising from an author of more than 30 books who is described in publicity materials as a life-long advocate for the oppressed and opponent of right-wing causes.
Black Thursday describes the July roundup. Rajsfus was 14, more boy than adolescent. His sister was 16. Pounding on the door before 5 a.m., two policemen — one a former neighbor — rushed the family through packing suitcases and dressing, then marched them to a formerly Jewish-owned house in which Vincennes' 100 Jews were packed into two rooms.
After 10 or 11 hours, French-born children over 14 were allowed to leave; Rajsfus' mother handed his sister money, kissed them, and said, "Leave fast." He says: "I am alive today because my mother made that decision without hesitation" not even asking her husband. His Polish-born parents and most others were bused to one of two way stations on the journey to death: Drancy, a French transit camp, or five days in the stifling Vél d'Hiv, an indoor velodrome, subject of a third book in this Rajsfus series due out in September.
He and his sister lived in the family apartment until hiding in June after word of a new roundup.
Rajsfus returned to Vincennes in the 1980s to find traces of the 1942 arrests. Official records seemed not to exist, although he found mention in an official's memoir. Residents knew, or claimed to know, little or nothing. Most disgusting to him was the frequent brushoff: "I'm not interested."
Rajsfus reveals more of himself in a 2016 interview at the end.
Except for their anti-police rants, these worthy books are quite interesting, despite their discouraging cost-saving tiny type — with near-microscopic footnotes — and no index.
Most telling, perhaps, is an elderly Vincennes man's response to Rajsfus: "Ah, the Jews, it was their affair. It didn't concern the French."
***
Neal Gendler is a Minneapolis writer and editor.
(American Jewish World, 6.30.17)