Wednesday, October 19th, 2016...6:14 pm
Unlock your creativity
Jump to Comments
Peter Himmelman's new book provides practical ideas for bringing your ideas to fruition
By MORDECAI SPECKTOR
Peter Himmelman's new book, Let Me Out: Unlock Your Creative Mind and Bring Your Ideas to Life (Tarcher Perigree), includes a photo of the author with renowned local musician and songwriter Steven Greenberg.
The snapshot from 1980 documents a moment in their relationship, when Himmelman was a 20-year-old aspiring musician, and Greenberg, "the multitalented drummer of the Kinship, Minneapolis' most popular bar mitzva and wedding band," had produced a dance song called "Funkytown," which would become a global hit — No. 1 on the charts in 28 countries.
Himmelman, a St. Louis Park native, would visit Greenberg, bringing him song demos and soliciting his sage opinions. On one afternoon, Himmelman wrote a song titled "Cursed with What It Means," about a friend of his parents, Mr. Fuff, a Holocaust survivor, who ended up killing his wife. Mr. Fuff was packed off to a mental institution and pumped full of Thorazine.
"I raced to Steve Greenberg's place, cassette in hand," Himmelman writes in Let Me Out. "This was a whole new style of music, dark and spare with intense lyrics based on a true story, and I knew he was going to love it. I put the cassette in his giant Marantz stereo and let the music fill the room. When the song finally trailed off, Steve got up off his recliner and walked toward the stereo. He had a big smile on his face, so naturally I assumed he'd turn up the volume and play the song again. But instead, he ejected the cassette and hiked it between his legs, like a football center. It flew up into the air, end over end, until it crashed into the brickwork of his fireplace."
Himmelman writes that it was "really tough. I stared at the tape cartridge, now in pieces, and wondered how all my passion and enthusiasm for this song had vanished in less than four seconds."
(In the way of full disclosure, Steven Greenberg is a partner in the American Jewish World's parent company, Minnesota Jewish Media, LLC.)
After a period of recovering from the cassette tape incident, Himmelman went on to become a beloved musician, in the local rock unit Sussman Lawrence. His subsequent successes include critically acclaimed albums for adults and children, sold-out concerts across the country and jobs scoring music for TV shows and films. About five years ago, he founded Big Muse (bigmuse.com), his vehicle for presenting creativity seminars to corporations and various other groups. Let Me Out is a compendium of the concepts and techniques Himmelman has professed in the seminars.
Himmelman recently talked with the AJW from his studio in Santa Monica, Calif. He lives near the ocean in Santa Monica with his wife, Maria, and his African leopard tortoise King Ferdinand.
Regarding the encounter with Steven Greenberg, Himmelman notes, "He was an early mentor of mine…. He was critical but he was always funny… I always knew he was on my side."
The issue of rejection confronts any creative artist or anybody trying to realize a dream. This topic reminded me of my early days in journalism, when article submissions often were returned with rejection slips. I had a folder for the rejections — mostly generic notes and the occasional personal letter. Yet I persevered and became a popular journalist and the publisher of a great metropolitan Anglo-Jewish newspaper.
"If you're embarking on something new, you must have a strategy in place to protect yourself from the inevitable criticism that will take place when you take your ideas to market," writes Himmelman, and adds that he's not just talking about "a business marketplace." Any sort of idea can meet with rejection.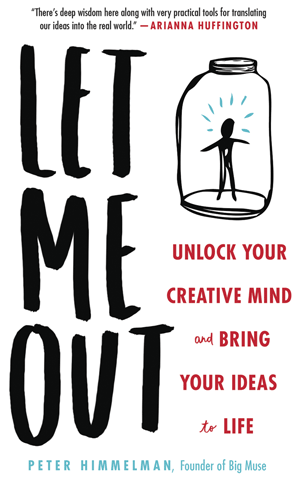 And a central concept in Let Me Out is what he terms "MARV" — it's an acronym for Majorly Afraid of Revealing Vulnerability. MARV is the negative voice within, the "internal critic," that, according to Himmelman, is "constantly yammering about our deficiencies and filling us with fear."
In an essay published in the recent edition of Time magazine, Himmelman explains:
Whether this Marv character, (who's actually a set of neurobiological responses from our amygdala, or primitive brain), senses danger from actual physical threats, or perceived psychological ones, his protective warning remains the same: "Stay away!" For instance, if a rabid puma were about to pounce on you, Marv would become the lifesaver that sends adrenaline coursing through your bloodstream. On the other hand, when it's time to call a certain woman you've always wanted to date, Marv becomes the saboteur that tells you all the ways you could screw up for even trying. He believes that something that could "harm" us in a purely psychological way — such as that woman turning down your offer to go to dinner — is also "deadly." And so Marv endeavors to protect you against psychological threats as well.
Another important idea Himmelman discusses is that you need to take concrete action to get your ideas out of your head and into the world. Or as he writes, "Make your ideas take shape in the real world."
In the introduction to Let Me Out, Himmelman writes about how the music business crumbled into nothingness over recent years, leaving him and other musicians struggling for income.
"In case you haven't heard: Almost nobody's paying for music anymore. My cousin Lawrence, a diamond dealer from Chicago, asked me to explain the problem. By way of metaphor, I told him to cup his hands under his computer screen and imagine that all the diamonds he is trying so hard to sell simply fall into his hands for free. 'That's rough,' was all he had to say."
This disruptive innovation in the music industry left Himmelman searching for his next venture. He mulled over the idea that became Big Muse for some two years — "I just sat on the idea like a duck on an egg." Looking back, he reflects, "I spent too little time thinking about how the new business might look in success and too much time worrying about how I might feel when it inevitably failed to get off the ground."
However, on July 14, 2011, Himmelman "did three simple things" to put his plan in motion: he spent 15 minutes thinking of names for his company; allotted 10 minutes make some sketches of logos; and then took another 10 minutes to purchase domain names for the online presence.
"That was it," he writes. "These were three remarkably easy tasks, three tiny ideas. But the radical difference between that fateful morning and so many others was that I stopped the negative thinking and started taking the small but definitive actions toward my goal."
The preceding is just a brief sampling of what the reader will find in Let Me Out, which applies ideas from the science of cognitive therapy and other disciplines to Himmelman's recipes for realizing your creative dreams. The book chapter titled "The Nonrefundable Cheese Incident," about the author's attempt to return a bag of moldy kosher cheese, is worth the purchase price alone.
***
Peter Himmelman will read from Let Me Out: Unlock Your Creative Mind and Bring Your Ideas to Life 8:30 p.m. Saturday, Oct. 29 at Open Book, 1011 S. Washington Ave., Minneapolis. He also will sing songs and sign books. Special guest is Peter Bailey, president of The Prouty Project.
(American Jewish World, 10.21.16)