Wednesday, June 15th, 2016...11:12 am
The past is never dead
Jump to Comments
The Extra, by A.B. Yehoshua, Houghton Mifflin Harcourt, 249 pages, $24.
Reviewed by NEAL GENDLER
Israeli-born harpist Noga, subject of A.B. Yehoshua's new novel, The Extra, exemplifies Bergen Evans' saying: "We may be through with the past, but the past is not through with us."
Noga's well-ordered life, performing in a Dutch orchestra, is put on hold when she agrees to spend 10 weeks in Jerusalem holding her family's key-money apartment while her recently widowed mother tries assisted living in Tel Aviv.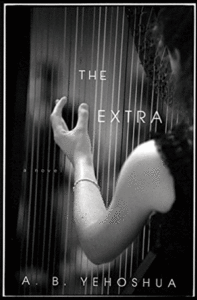 The move brings unsought attention from the man who divorced her because she refused to have children.
Noga's brother Honi wants their mother to move so she'll be closer to him when he's needed. He produces documentaries and commercials, and the title reflects his plan to give Noga something to do in Jerusalem, and some income, with work as a movie extra.
She's 41, still slender and attractive, though worried that her concert gown reveals flabby shoulders. Yehoshua initially gives her little ambition beyond soon performing Mozart's concerto for flute and harp with Manfred. Yehoshua emphasizes that Noga is a Hebrew name for Venus, which some orchestral colleagues call her. (OK, although my Hebrew dictionary gives the planet's name, in Hebrew letters, as Venus, and translates noga as "light, radiance.") Venus is the Roman goddess of love, synonymous with beauty.
In a way, Noga has been an extra in everyone's life but hers. She lives far from relatives, apparently with no committed partner, although the principal flutist, Manfred, is "her loyal friend and occasional lover." Because the harp appears infrequently in orchestral works, she's offstage much of the time. She's also something of an extra in her parents' half-empty apartment, living from suitcases.
Her parents rented the apartment for decades at what's become a pittance, but if Noga's mother moves out, it will revert to its owner, whose lawyer is anxious to sell to a haredi family wanting to join a neighborhood now mostly black hat.
That sartorial clue explains Yehoshua's phrase about moving "from the blackening Jerusalem to the White City," a name for Tel Aviv.
Noga is further persuaded to work as an extra by a former police commander who's made such a post-retirement career of it that the only role he can get in a hospital drama is playing a corpse in the morgue, his far-too-familiar face covered. He takes an interest in Noga that she feels is becoming improper for a man with a wife and children; in his life, she'd be an extra.
Honi, long fond of ex-husband Uriel, makes the mistake of telling him she's in Jerusalem, and Uriah, apparently still feeling strong for Noga although devoted to his wife and two children, watches her as a peasant girl in a live "Carmen," then shows up in an adjacent bed on the hospital set. Using his key to Noga's family home, he shows up and reveals his residue of anger at her refusal to give him a child – the reason for their divorce. Unexpectedly, just seeing him quickens her pulse.
All this spins out at a languid pace with twists I won't reveal beyond two haredi neighbor children who repeatedly sneak in to watch television. It's a charming, if somewhat sad story that – assuming Stuart Schoffman has translated accurately – bounces jarringly between present and past tense.
One more thing: Yehoshua is an acclaimed Israeli novelist, but he should avoid subjects he doesn't know. He says that Honi's wife, a frustrated artist, "raises their three children with a certain bitterness, which has led to attention deficit in the older boy." That is flat-out wrong. Johns Hopkins defines attention deficit disorder as "a brain-based biological disorder." The cause is unclear, but the Mayo Clinic says it's possibly related to genetics, environmental variables such as lead exposure and "problems with the central nervous system at key moments in development." Typical treatment is medication and behavioral therapy.
Noga's last-chapter surprise gives physical meaning to novelist William Faulkner's famous sentence: "The past is never dead. It's not even past." Reading The Extra will tell you why.
***
Neal Gendler is a Minneapolis writer and editor
(American Jewish World – 6.17.16)