Wednesday, February 8th, 2017...2:33 pm
The 'new Jew' in Israel
Jump to Comments
The Man Who Never Stopped Sleeping, by Aharon Appelfeld, Schocken, 288 pages, $26.
Reviewed by NEAL GENDLER
The famous line "You can't go home again" applies to almost all survivors of the Shoah.
But to Aharon Appelfeld's teenage character Erwin, it's only true when he's awake, which after the war is seldom.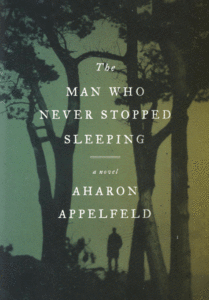 "At the end of the war, I became immersed in constant slumber," begins the narrator of Aharon Appelfeld's new novel, The Man Who Never Stopped Sleeping. The story starts in Naples, Italy, where he's been brought — often carried — by other survivor refugees, rarely waking from his dreams of home, "where I continued to live my life."
Becoming alert in Naples, "I felt that I had been expelled from a protected place into blinding, wounding light."
An Israeli emissary plucks him and 13 other boys from the waiting refugees, providing relentless physical, language, ideological and weapons training for life in the forthcoming Israel.
He still sleeps heavily, sometimes a whole day, dreaming he's in his vanished home, observing and conversing with his parents about past, present and future.
Transforming into the Israeli "new Jew" creates worry. "It seemed that with every day, I was drawing farther away from my parents' house, forgetting my experiences in the war.… Mother didn't scold me, but Father's ironic tongue grew sharper each night, and one time he called me a new Jew," changing and growing distant.
The dreams seem to say, "We are your true life. All your new activity is merely … an illusion."
Such dreams continue throughout this engaging, if slow-seeming, almost dream-like story by one of Israel's leading writers. Erwin and other refugees set sail for the Palestine Mandate, are intercepted by the British and are imprisoned at Atlit. Eventually released, the 14 go to a farm in the Judean hills, where they break boulders, build a retaining wall and train for combat.
On his first patrol, he is severely wounded, his legs so badly damaged seven surgeries are needed to end paralysis. "For the ones who were hit — including me — our lives were cut in two: the 17-1/2 years before the shots and then the life after them."
Dreams become preferable to waking. One revisits summers with his maternal grandparents in the Carpathian Mountains. "All of this I saw again in my deep slumber, and I knew that none of it had been permanently snatched away. On the contrary, I now saw it even more clearly."
After long hospitalization, he goes to a convalescent home, where friends visit during days and he is "back at home almost every night." He copies the Bible to improve his Hebrew and takes tentative steps at becoming a writer — his father's failed goal.
Weak and in pain, he is given an apartment in Tel Aviv with three caregiving hours daily from attractive, dutiful but nearly silent Rivka. The ground-floor flat was willed for a wounded veteran's use by one Arthur Ehrenfeld.
Why did Appelfeld choose that name? His novel has the usual disclaimer that "any resemblance to actual persons, living or dead, events or locales is entirely coincidental." Yet the dust jacket notes say Appelfeld mined "heartrending personal experience" for the tale. Indeed.
Erwin, who changes his name to Aaron, was born in Czernowitz, Romania, to prosperous sawmill owner Michael, married to Bunia. Hidden in a gentile's cellar and exploited for two years, he ran away to live in the woods until war's end.
Published accounts say that Appelfeld, one of Israel's leading writers, was born in Czernowitz to Michael and Bunia Appelfeld and named Ervin (the pronunciation of Erwin in German). Escaping from a concentration camp, Appelfeld lived in Ukrainian woods for three years, becoming a kitchen boy for the Soviet Army in 1944. His first language was German.
In his 2003 autobiography, The Story of a Life, Appelfeld tells of unhappiness at losing his German mother tongue. So does fictional Erwin in Appelfeld's sensitive story.
The Shoah's full trauma was individual, but it also traumatized the Jewish people. Perhaps Appelfeld is suggesting that Erwin/Aaron characterizes Israel: seeking to create a new Jew severed from the tragic past, but finding that the past refuses to stay silent.
***
Neal Gendler is a Minneapolis writer and editor
(American Jewish World, 2.10.17)