Wednesday, May 17th, 2017...12:47 pm
Stories of survival with Stephen Tobolowsky
Jump to Comments
My Adventures with God, by Stephen Tobolowsky, Simon & Schuster, 353 pages, $25
Reviewed by NEAL GENDLER
Asked in an interview to describe his Judaism, actor Stephen Tobolowsky replied "Judaism is not something I do. It is something I am. It isn't an occupation. It is a definition."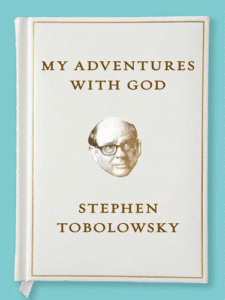 That wasn't always so.
The first half of Tobolowsky's My Adventures with God is mostly about his adventures not involving God. They include college, where he meets his love Beth, and their impoverished Los Angeles life as he seeks acting work.
He finally gets a morning job performing in schools.
"We did plays about how great it was to be black or be a woman," he says. "As a white man, I was thrilled I got the job" and loved the irony. Afternoons are for marijuana and Scrabble, evenings for rehearsing with his unsuccessful band. Beth writes and works at a dog-food plant.
Beth turns out to be Beth Henley, author of the Pulitzer-winning play Crimes of the Heart. Success brings a home in the Hollywood hills, filled many evenings with drunken, naked friends.
Beth, once content to write in a breakfast nook ("smaller than an [airline] economy seat," Tobolowsky says), gets an across-town office. Feeling "demoted from sweetie to yard boy," he has little to do but drink, use cocaine and feel useless, although he does act in some of Beth's plays, directs two, and writes with her. The day he ends their 16 years together, he gets his big break: an audition for Mississippi Burning. Then come offers for five films in one month.
That's the first half of this book, which I read with "who cares" indifference plus annoyance at too-frequent chasing of laughs, sometimes with flippancy approaching trivialization of Jewish tradition.
So how does this now-successful actor and podcaster — Dr. Berkowitz in One Day at a Time, Principal Ball in The Goldbergs and once a co-villain with former Guthrie actor Peter Michael Goetz — come to write an autobiography with Talmud citations? That's what makes the second half interesting, insightful and worthwhile as Tobolowsky finds both himself and serious Judaism.
One day, uneasy after brushing aside a question about Rosh Hashana services, he drives by a little white house with a Magen David on the roof. He stops and asks the elderly man sweeping the sidewalk about a Rosh Hashana ticket. The sweeper is the rabbi, who invites him for Shabbat and takes him under his wing for a decade of services, cholent and education.
After 11 months of saying Kaddish for his mother, Tobolowsky continues with daily services. "I no longer stood to say the prayer," he says. "I became 'the community' that answered … the supporting cast. A perfect role for a character actor." He continues post-services delicatessen breakfasts, liquor and cards with fellow congregant Abe, a gruffly charming Auschwitz survivor who gets most of two chapters as his story unreels.
We learn of Tobolowsky's effort to learn Hebrew — "I will be able to read fluently around the time our sun explodes" — his marriage to actress Ann Hearn, their brilliant sons and three close calls: nearly losing his voice, a horse accident crushing his neck vertebrae, a triple bypass.
We get photos, but inadequate identifications. He and Ann appear at the end, but I needed the Internet to learn Beth's identity and adult image; probably she's the young beauty kissing in a phone-booth photo strip.
My Adventures with God is conversation-like, laden with split verbs. Near the end, Tobolowsky has become a devoted Jew and apparently a mensch. He's stunned to learn that his first crush, Alice, to whom he'd given flowers in an age-four marriage proposal, had been an abused child who envied the love she saw in Tobolowsky's home.
"Alice's story of horror has replaced my mimosa blossoms and marriage proposal in importance in the hierarchy of my memories," he says. "Maybe it is because at a certain age, stories of survival have more weight than stories of promise. Maybe that is why we reread the Torah every year. The stories don't change. We do."
***
Neal Gendler is a Minneapolis writer and editor.
(American Jewish World, 5.19.17)