Wednesday, April 19th, 2017...11:15 am
Passenger on a journey of change
Jump to Comments
Leaving South Dakota: A Memoir of a Jewish Feminist Academic, by Beryl Radin, Mascot Books, 200 pages, $18.95
Reviewed by NEAL GENDLER
Many of us who grew up in small cities with few Jews will understand the effect on Beryl Radin's life.
In Leaving South Dakota, Radin, a semi-retired public policy professor at Georgetown University, says she's always had difficulty answering the question "Where are you from?"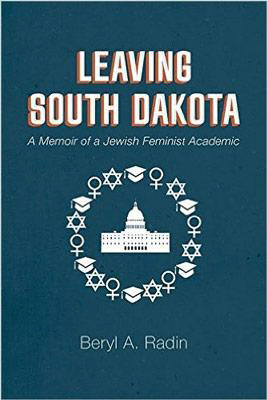 If she replies South Dakota, "it usually evokes a blank stare that stops the conversation." One woman decided she'd made that up, saying, "An outspoken Jewish woman with strong political views couldn't be from South Dakota."
Her home of Aberdeen had 20,000 residents and fewer than Jewish 20 families.
Until the 1960s, that resembled many small Midwestern cities, where first or second generation Jews owned businesses, as did at least half Aberdeen's Jews. Until college, Radin didn't realize that not everyone got calls from owners about new products.
Although her Belarus-born parents "established relationships that indicated their commitment to become part of the larger community," joining various organizations, "on some level I knew that I wasn't really a part of the world of South Dakota. I knew I was different."
Reminders included Christ-killer taunts from Catholic students. Her desire to move away fit with the postwar trend of Jewish children departing for college and big cities, leaving large areas of America where now, no one knows any Jews.
Her father was from Milwaukee, her mother St. Paul. Her father, who died when Radin was 10, headed the South Dakota office of Minneapolis-based Investors Syndicate (now IDS). Their home differed from neighbors' because it was filled with books and art, including encyclopedias.
Radin's story "spans 80 years" of a life that "never took a predictable pathway," in tune with her urge to "make changes and stir things up." The former Herzl camper does that now as an enthusiastic member of J Street.
Her first day at Antioch college, she walked dorm hallways looking for Jewish names, finding it "quite reassuring to be in an environment where it wasn't strange to be Jewish." After a University of Minnesota graduate-school year, she decided it was time to start a career.
Radin says her memoir focuses less on the details of her life than on the immense changes that enabled her life to unfold "in ways that I never could have imagined" because of the creation of new opportunities — and problems — economic, political and social. "In many ways, I was a passenger on a journey of change."
Her journey has three parts: A Jew in South Dakota, Leaving Home and Crafting a Career. I found them liveliest and most interesting in that order, although Part 3's last chapter is particularly insightful. I wish she'd have further described her experiences of living and working in Australia and India and visiting Azerbaijani Jews.
"It was always clear to me that being Jewish and having roots in South Dakota was like an oxymoron," she says, and her restless life combined travel with work that switched to and from — or combined — academia and social and governmental policy.
Antioch's curriculum of classes and "co-op" outside jobs took her to the Associated Press in Washington, D.C., and the UN Press office in New York. She has written or edited eight books.
While not calling herself a writer, she says "it is clear to me that throughout my journey … my ability as a writer was something that I had relied on." She writes simply and clearly, but an editor accustomed to space-starved newspapers could have tightened this short work without damage by eliminating repetition and extra words. Photos are in the back.
Early, she mentions the burden of perfectly typed dissertations — no whiteout allowed — and near the end, she rhapsodizes for two pages about Apple products easing and expanding her work. They also closed and updated a life circle.
"Growing up, I used to belittle my mother for running to the encyclopedia to check on information related to a conversation," she says. "A few years ago, I realized that I was doing the same thing with my iPhone."
***
Neal Gendler is a Minneapolis writer and editor
(American Jewish World, 4.21.17)