Wednesday, March 22nd, 2017...10:38 am
How Europe remembers the Shoah
Jump to Comments
Hell's Traces: One Murder, Two Families, 35 Holocaust Memorials, by Victor Ripp; Farrar, Straus and Giroux, 206 pages, $25
by NEAL GENDLER
A tour of European Shoah memorials might seem thin material for even a slender book, but Victor Ripp seamlessly weaves in histories of two families: His mother's, the Kahans, who escaped, and his father's, the Ripps, 11 of whom did not.
Unexpectedly engaging and easily read despite split verbs, Hell's Traces shows how millions of Jews' deaths are memorialized in monuments that often say as much about the societies that built them as they do about the Shoah.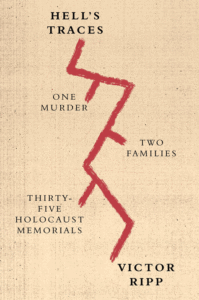 Ripp, author of three books including Pizza in Pushkin Square, says he got nowhere trying to write a history of his Russian-origin families. Then he thought of visiting memorials for inspiration. A web search showed nearly 1,000, "clustered in Central Europe, where guilt was thick on the ground," he says. "I was looking for memorials that conjured up stories about the Ripps and the Kahans."
His first stop was Germany, with more than 200 memorials. A 45-minute walk among the famed 2,711 blank granite steles of Berlin's Memorial to the Murdered Jews of Europe left him uncertain of how it was a statement about the Shoah.
"Jews in the millions murdered. Families shattered, traditions desecrated," he says. "Shouldn't a Holocaust memorial acknowledge these facts in a way that can easily be grasped?"
Viewing an adjoining exhibit, he "found it impossible not to think of the members of the Ripp family who had been killed." Was there a "missed turn" that sent them to death while the Kahans "had found a detour to safety"?
He visited the six-bedroom Berlin apartment the Kahans occupied after leaving the Soviet Union in 1920. They'd lost their Russian oil holdings, but remaining European businesses meant wealth for exit permits, visas, tickets and bribes. In 1933, the 30-some family members left for America and for the Palestine Mandate, where they already owned property.
The Ripps were émigrés in Paris. With war and Kahan-obtained documents, Ripp's parents fled through Spain to Portugal, then America; he was three. So was his Paris cousin Alexandre when killed by the Nazis, along with Alexandre's mother, grandmothers and eight hometown relatives in Grodno, now in Belarus.
Ripps's mother's family's prominence is evident in Berlin's Jewish Museum: a 10,000-item Kahan archive, including family records.
Ripp visited 35 memorials in six countries, including one much-criticized in Budapest that falsely portrays Nazi-allied Hungary as Germany's victim. Further east, some politicized memorials mention only "Soviet citizens." His reactions speak insightfully about the builders — governments and Jews' former neighbors.
A memorial near Berlin's Friedrichstraße station recalls the Kindertransport: 10,000 Jewish children evacuated to Britain. On a 15-foot-long platform stand two groups of children looking in opposite directions. One group is a well-dressed boy and girl with a suitcase and a doll, awaiting "the Train to Life." The other shows five disheveled children. "Their posture and facial expressions indicate distress and uncertainty. … These children are headed for the Train to Death."
Ripp follows Alexandre's path, finding his cousin's name and age on the manifest for Convoy 27, carrying 1,016 Jews — 742 female, 264 male – to Auschwitz on Sept. 2, 1942. Records say: "Arrived 4 Sept. 1942. Gassed immediately."
Amid buildings at Drancy, France, from which Jews including Alexandre were shipped to Auschwitz, he imagines Alexandre walking on the courtyard and later, after the adults are taken, standing with his ID number on cardboard hung from his neck. "The image was so appalling that it was painful to keep in mind."
Back in Paris, Ripp meets a woman whose husband has put plaques in schools showing names of deported students. In a park with children's play equipment, the couple put a memorial to that neighborhood's deported preschoolers. A four-by-six-foot glass tablet is etched with two little-child hands reaching for each other, 15 children's names, and a message: "As you pass by, read their names, your memory is their only grave."
One name is Alexandre's. Surveying the adults in the park, Ripp wonders which could have been his cousin, had he lived.
Soon, "I realized that the person in the park who best could serve as a stand-in for Alexandre was me."
***
Neal Gendler is a Minneapolis writer and editor.
(American Jewish World, 3.24.17)