Wednesday, May 31st, 2017...1:05 pm
Red Cross in tatters
Jump to Comments
Humanitarians at War: The Red Cross in the Shadow of the Holocaust, by Gerald Steinacher, Oxford, 352 pages, $32.95
Reviewed by NEAL GENDLER
When World War II ended, the reputation of the Swiss-based International Committee of the Red Cross was in tatters — not least because of its silence during the Shoah.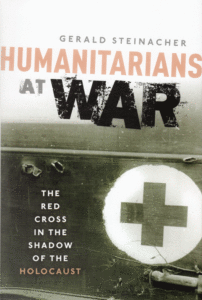 Creator of the Geneva Conventions, the ICRC's future was threatened by critics of its conduct — and Switzerland's — during the war, by its drained finances, and by rivalry for leadership.
"The ICRC's failure in 1942 to make a public appeal to Germany to stop its violations of humanitarian principles, and the agency's tardy assistance in late 1944 to the Hungarian Jews who remained alive, had lasting repercussions," among them a question of putting the Red Cross movement into Swedish hands, says Humanitarians at War author Gerald Steinacher.
"Sweden was ultimately seen as the good neutral, while Switzerland was painted as the duplicitous and opportunistic one," he says.
Steinacher, a historian and professor of Judaic studies, aims his book Humanitarians at War at the 1944-1950 challenges to the ICRC and its recovery, but it is very much about Jews. It indicts ICRC and Swiss conduct early in the war.
Postwar, the ICRC's unofficial but widely accepted travel documents, many issued with anti-Communist Catholic officials' connivance, allowed Shoah perpetrators to escape Europe and justice — the subject of Steinacher's 2010 Nazis on the Run, which won a National Jewish Book Award. Steinacher says: The ICRC "stated repeatedly that screening applicants was not its job," and vice president Jean Pictet said: "Guilty persons themselves are not excluded from this assistance."
Yet the ICRC returned to prominence, all Swiss, acclaimed for its 1949 Geneva Conventions that most significantly extended wartime protection to civilians. Steinacher calls this its greatest achievement.
Humanitarians is easy but not rapid reading, because its 244 pages, including photos, are so packed. The rest includes 72 pages of notes, an index of names and a glossary of main characters. Chapter one is a history of the humanitarian ICRC, founded in 1863. In 1928, the movement was formalized as the ICRC, national Red Cross societies and the League of National Red Cross Societies.
Chapter two turns to the Shoah silence, a decision made to remain within the ICRC's original purpose of aiding service members captured or wounded — for which it won the 1917 Nobel Peace Prize — as a result of Swiss pressure not to criticize Germany, and from indifference to or dislike of Jews.
By fall 1942, vice president Carl Burckhardt was running most ICRC business. "He had very little interest in purely humanitarian work," Steinacher says. While condemning Nazism, Burckhardt saw it as a defense against Communism and "had few reservations about attempting to reach practical compromises with the Nazi regime."
He visited concentration camps in the 1930s and "officially lauded the commandant of Dachau for his discipline and decency." He was "no great admirer of Hitler but no particular friend of the Jews either … His anti-Semitic pronouncements continued long after the war," Steinacher says. He never called for violence against Jews but was indifferent to their fate.
Burckhardt learned of the Nazi plan to kill all Europe's Jews but withheld details from ICRC colleagues, and at an Oct. 14, 1942, meeting, a vague declaration of protest was dropped. Steinacher says that for some, that day "would become the ICRC's' 'most shameful moment'" during the war.
Steinacher says the ICRC's favorable report of its June 1944 visit to the gussied-up Terezin "discredited the organization as being either naïve or complicit in a cruel fiction."
Anxious to avoid invasion, Switzerland "yielded to many German demands, both real and perceived," he says. About 30,000 Jewish refugees were admitted, their support paid by the Swiss Jewish community of 18,000 to 20,000. Many refugees were turned away, and Jews' passports were stamped with a J.
After D-Day, the Swiss started leaning toward the Allies, and with pressure and funding from   Jewish organizations, the ICRC sent food parcels to some to concentration-camp prisoners and acted with Swiss and Swedish officials to save Hungarian Jews.
But for Europe's Jews, that was too little, too late. Steinacher says ICRC's silence "failed not only the victims but also its founding ideals."
***
Neal Gendler is a Minneapolis writer and editor.
(American Jewish World, 6.2.17)