Wednesday, January 11th, 2017...1:16 pm
What passes for normal on a kibbutz
Jump to Comments
We Were the Future: A Memoir of the Kibbutz, by Yael Neeman, translated by Sondra Silverston, Overlook Press, 243 pages, $26.95
By NEAL GENDLER
By American standards, growing up in a Hashomer Hatzair kibbutz, as described by Yael Neeman, seems both liberating and stifling.
Liberating because few decisions are required. From your arrival as a newborn, the kibbutz determines where and with whom you will live; what you will wear, eat, learn, do; which holidays you will celebrate and how.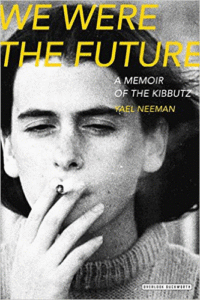 Stifling? If you're raised that way from birth, it's your normal.
"We spoke in the plural," Neeman says. That's how we grew up." She was born in 1960, one of eight girls and eight boys together in Narcissus, one of the age-segregated children's groups of Kibbutz Yehaim. They lived in the children's house, not with their parents, with whom they spent 5:30 to 7:20 p.m. daily, who visited for a 15-minute bedtime and with whom they took family vacations.
"We existed in parallel universes," Neeman says, calling the adults' world an unknown land. "All of us…. were tourists in our biological parents' houses."
Starting as newborns, "they joined us, glued us, welded us together. It was merely a byproduct of the experiment with Socialism," intended "to separate the children from the oppressive weight of their parents…. and the bourgeois nature of the family."
A fascinating inside look, We Were the Future is the third book by Neeman, daughter of Hungarian Shoah survivors and winner of the 2015 Prime Minister's Award for Hebrew Writers. She describes her kibbutz childhood with spare language and an air of detachment sometimes nearing cynical sarcasm, as though she's told all this before and is weary of repeating it.
Kibbutz life and education were defined by Yehaim's national movement. God was forbidden, "a vestige of the dark Middle Ages, held in greater contempt than Hungarian or tender words or lullabies," Neeman says. "We were proud that we worked on Yom Kippur and ate wild boar that we roasted on campfires." The dead were buried in coffins, Kaddish was not said, "and any mention of the Bible was forbidden."
Shavuot and Sukkot, commanded in the Torah, were secularized into agricultural festivals. Neeman doesn't explain how Pesach was celebrated without mentioning God; Moses was the leader, not the liberator, and doesn't appear in the traditional Haggada.
Yehaim's founders were Israelis and Hungarians — devout socialists, but "creation of the new world never happened." Although emblematic of Israel, kibbutz population peaked in 1947, at 7 percent of the Jewish population and by the 1970s it had shrunk to 3.3 percent, she says.
In the egalitarian kibbutz society, some were more equal than others. In what she calls the kibbutz caste system, high-esteem jobs in farming and production were rotated periodically, but those considered "service branch" — such as kitchen and laundry and cleaning women — were stuck.
Standardization was enforced. When she was 10, Neeman's parents gave her wood clogs with a blue stripe — way too big, because they didn't know her shoe size. The illicit clogs vanished. The kibbutz newsletter soon reminded: "The kibbutz provides all clothing and footwear, without exception … no one should have personal items such as clothing, sandals, kaffiyas, etc."
At age 12, children were sent to nearby Oshrat Educational Institution, where 180 youngsters lived in tangles of teenage mess through grade 12, returning to their kibbutzim twice a week to work in fields and children's houses. Institution subjects had vague names and students could wander, attend classes or not, rarely have homework.
Extracurricular activities were pursued, but academics were "only part of the practical and ideological agenda." A kibbutz newsletter said: "The only profession is being a kibbutz member … when you become members of the kibbutz, you will be directed to the work that is required of you."
The title's past-tense verb foretells the socialist experiment's inability to hold all its young. Like others, Neeman chose to leave the Marxist paradise.
"The beauty of our kibbutz was incredible," Neeman says. "We all felt unworthy of it and the system. Who could say no to an attempt to create a better, egalitarian, just world?
"We didn't say no," she says. "We defected."
***
Neal Gendler is a Minneapolis writer and editor
(American Jewish World, 1.13.17)