Wednesday, August 24th, 2016...1:49 pm
Letters filled with hope
Jump to Comments
Every Day Lasts a Year: A Jewish Family's Correspondence from Poland, edited by Christopher Browning, Richard Hollander and Nechama Tec, Cambridge, trade paperback, 291 pages, $24.99
Reviewed by NEAL GENDLER
For obvious reasons, voices of those killed in the Shoah are far rarer than voices of survivors, but in Every Day Lasts a Year, the dead do speak.
After his parents' 1986 death in a car crash, Richard Hollander found a briefcase in their attic. Inside were stacks of letters and postcards in Polish and German with swastika postmarks from his father Joseph's family in Poland — from November 1939 to December 1941, as Jews were steadily impoverished, restricted, confined to a ghetto and deported.
Sept. 18, 1939, Joseph presciently had left a thriving Krakow law career and travel agency, entering Romania with wife Felicia, heading for neutral Portugal via Italy, where they picked up Arnold Spitzman, 14, separated by illness from his Paris-bound relatives.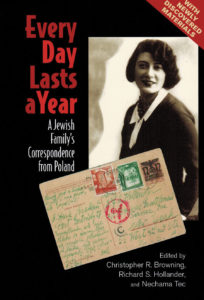 Denied entry to Portugal, they found themselves on Dec. 6 on Ellis Island, without visas. For more than a year, Joseph fought deportation while simultaneously trying to rescue his mother, three sisters, two brothers-in-law and two nieces.
"Revealed in every letter is an almost childlike faith in Joseph's ability to provide deliverance," says Hollander. "There is no way to calculate the burden of being the only thread of hope of an entire family and its only survivor."
April 8, 1940, brother-in-law Salo Nachtigall wrote: "We are awaiting news as if for salvation." It might have been, after Joseph got them Nicaraguan visas, which niece Genia said "fell like stars from the sky." But then the Nazis refused to let Jews leave unless they had foreign citizenship, which Joseph couldn't provide.
He worked to get them to the United States, family members sending dates of birth and photos and registering with a U.S. embassy. Their waiting-list numbers were above 43,000 — hopeless with State Department officials leaving quotas unfilled and quietly working to keep Jews out.
Joseph and family numbered their correspondence to know when any went missing. Joseph shipped them packages from European suppliers: coffee, tea, sugar, cocoa, meat, cooking oil, soap and chocolate. Frequency apparently increased after the Krakow ghetto was created in March 1941.
Wary of censorship, family members stayed upbeat, expressing happiness at Joseph's safety and saying they were healthy and didn't need anything — seldom mentioning their diminishing income and increasing deprivations. Mother Berta wrote longingly and often, saying that when waiting for his letters, "every day lasts a year."
Sister Mania: "Try not to worry about us. Maybe God won't forget those who faithfully believe in him."
Pessimistic sister Klara: "We live like on a volcano. … It seems we sinned really much." She also said: "God won't abandon us," but later said, "Those who are alive often envy the dead ones now," and of sister Dola's absent husband: "The more I get to know people, the more I treasure dogs."
Letters hint of a nervous collapse, not surprising as Joseph tried to make a living, get his family out of Poland, sustain it with food, maintain correspondence, and handle requests to help others seeking refuge. Felicia left him in December 1942.
At the age of 38, he enlisted in 1943. In 1945, he married artist Vita Fischman before leaving for Europe, where the Army used his multilingual fluency. We get a few pages of his letters home about what he saw and his efforts to find his family.
Co-authors providing excellent context are Shoah scholars and National Jewish Book Award winners Christopher Browning (The Origins of the Final Solution and Ordinary Men and Nechama Tec (Resilience and Courage; Women, Men and the Holocaust).
This third edition contains new materials since first publication in 2007. It's is easy to read, if disturbing as you become familiar with people you know will die horribly. Writers introducing sections of letters aren't identified clearly, and oddly, Krakow also is spelled Cracow. There's an index, a valuable list of who's who and photos of the individuals — including stylishly dressed Joseph and Felicia about to dock in New York.
If reading this doomed family's efforts to keep up not only its own spirits but those of the brother working for them in America doesn't tear at your heart, you don't have one.
***
Neal Gendler is a Minneapolis writer and editor.
(American Jewish World, 8.26.16)