Wednesday, June 14th, 2017...12:37 pm
Jem Lester: Speaking for the silent
Jump to Comments
Shtum, by Jem Lester, Overlook, 320 pages, $26.95
Reviewed by NEAL GENDLER
Parenting a profoundly autistic child sounds like a subject for heartbreak, not humor, but Jem Lester conveys both in his fascinating Shtum, a novel in which the subject of the story says not a word.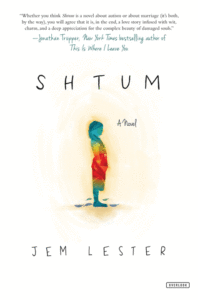 Shtum, thought to be Yiddish, means still, speechless or — uncharitably — dumb, like Jonah.
At the end, we learn that Lester, British journalist turned teacher, has a son like the Jonah of this novel, a dark comedy in which dismay at major characters' failings slowly turns to empathy.
Central character Ben Jewell and lawyer wife Emma are exhausted by raising their only child, now a husky 10-year-old with no concept of danger or self-control. He needs large diapers, sometimes smears feces on walls, often can point to pictures of what he wants and has tantrums and throws things if he doesn't get them.
Both parents love Jonah desperately but the struggle has dulled their marriage. Emma is something of an attractive blank. Unkempt Ben smokes, drinks too much, lacks focus and loses what had been his father's dinnerware-supply business. His father justifiably calls him lazy.
Jonah has made no progress at school, and the one for which he is headed looks no better. The parents are at their wits end after their London borough's children's service rejects their application for out-of-home placement, saying he's better off with his loving family. So they take drastic action: separating temporarily in hope that Jonah will be viewed more sympathetically.
Jonah and Ben move in with his taciturn father, Georg, a Hungarian Shoah survivor with whom Ben has a distant, difficult relationship. Georg and Jonah hit it off, the doting grandfather a calming influence who lulls Jonah to sleep with the life story he's kept from Ben, including that Jewell was Friedman until 1945.
The men take Jonah to estate-like Highgrove Manor School for autistic children. Jonah trots off happily with a staffer and Ben sees him running gleefully in a play area. "Jonah will love this," Ben says. "This haven is 50 acres of Jonahville." The staff is 200 for just 56 children.
"The mixture of joy and trepidation is unbearable," Ben says, "like stumbling toward an oasis in the desert only to find it's a mirage." After seeing the new bath-temperature sensory pool, he says: "Change the record. I want to move here."
The £200,000 ($257,500) yearly cost must be supplied entirely by the borough's social service. The agency refuses, saying Jonah's next school suffices.
Ben files an appeal, leading to a "tribunal" with opposing lawyers and expert witnesses. He needs a snotty, specialist barrister for £25,000-30,000. Ben hands her his Visa cards.
Meantime, Emma files for divorce and Georg is found to have cancer, agreeing to treatment only if Ben pledges to keep Jonah at home. Ben reluctantly agrees, but works on the appeal.
Ben, for a change, mostly acts like an adult, staying atop the paperwork, but he puts off Jonah's evaluation appointments until needing the barrister's last-minute rescue.
The night before the tribunal, he sits at Georg's table with an 18-inch stack of papers and "£24,000 of words that could mean nothing by this time tomorrow night." It's his only chance — he can't afford a second appeal.
But he realizes that success, and Georg's death, would render him solitary.
Lester's skill in Shtum glows in its last third, subtly transforming comedy into characters' pain-revealing drama. We learn of Ben's miserable childhood: parents who came to despise each other, father uncommunicative, mother an alcoholic who left when Ben was 11.
At the tribunal, Ben speaks as if he were the silent Jonah — simple words of a boy with little self-awareness and no awareness of consequences or anyone else's feelings. It's elegant and heartbreaking.
To learn the decision, you'll have to read this masterful book, with its untranslated British. Shtum gets better page after page as it reveals its surprises, including Georg's unexpected posthumous explanation of the name Jewell. It's spellbinding.
***
Neal Gendler is a Minneapolis writer and editor.
(American Jewish World, 6.14.17)