Wednesday, March 8th, 2017...1:11 pm
J Street's youth movement takes center stage
Jump to Comments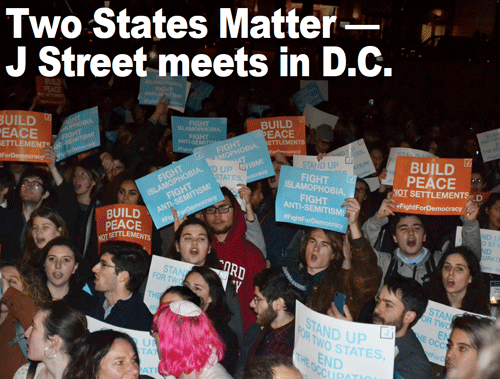 Photos and Story by MORDECAI SPECKTOR
So let me be very clear: to oppose the policies of a right-wing government in Israel does not make one anti-Israel or an anti-Semite. We can oppose the policies of President Trump without being anti-American. We can oppose the policies of Netanyahu without being anti-Israel. We can oppose the policies of Islamic extremism without being anti-Muslim. — Sen. Bernie Sanders, speaking to the J Street national conference
The opening event of the J Street national conference, which took place Feb. 25-28 in Washington, D.C., featured a live podcast of Israel Story, which is, more or less, the Israeli version of This American Life, the podcast hosted by Ira Glass.
The episode was titled "Roomies: Stories of Living Together," and was present by podcast co-founders Mishy Harmon and Yochai Maital. There were some brief talks — including opening remarks by Rabbi Andrea London, who was the assistant rabbi of Temple Israel in Minneapolis, from 1996-2000 — but it was a brilliant idea to dedicate the evening program to the entertaining podcast (israelstory.org/en).
After the program at DAR Constitution Hall, most of the attendees took to the streets for an march and rally. This was J Street's seventh and largest national gathering, with 3,500 conference attendees, including 1,200 college and university students affiliated with J Street U.
Steven M. Cohen, a noted authority on world Jewry, commented that this was "the youngest Jewish convention" he has attended, since some decades earlier when he was a Jewish activist.
It was the student contingent that hit the streets on Saturday night, in a march that resembled a Black Lives Matter or left-wing anti-Trump protest. The young Jewish activists articulated a sort of Two States Matter theme, with chants reflecting J Street's persistent call for a negotiated settlement of the Israeli-Palestinian conflict on the basis of establishing a Palestinian state in peaceful coexistence with the Jewish state.
With the Trump presidency upon us, and the crowd of 1,000 or so marching near the White House, demonstrators also voiced support for immigrants and refugees, and against the rise of anti-Semitism, Islamophobia and other bigotry.
At the rally in Pershing Park, the crowd heard from J Street U leaders and from Rabbi Francine Green Roston, from Whitefish, Montana, a resort town where neo-Nazis have menaced the tiny Jewish community. She talked about the emotionally fraught experiences of her community, and also praised the solidarity shown by non-Jews in her town.
The J Street conference, which took place mainly in the Walter E. Washington Convention Center, featured small panel discussions and plenary sessions that also revolved around panels considering various themes relating to Mideast peacemaking and "aftershocks" of the U.S presidential election.
The latter theme was the subject of a panel titled "What the Trump Era Means for Israel and the United State," which was moderated by Aluf Benn, editor-in-chief of Haaretz, the Israeli daily. Among the panelists were three members of the Israeli Knesset: Omer Bar Lev (Zionist Union), Akram Hasson (Kulanu Party) and Tamar Zandberg (Meretz Party).
The keynoter for this plenary session was MK Ayman Odeh, head of the Joint List, the bloc of Israeli Arab Knesset members. Odeh, who expressed the discontent of Israel's Arab citizens, scored Netanyahu for employing the "language of fear" to marshal voters. He noted that for nearly 50 years "Palestinian children have been born under occupation," and he warned, "A nation that oppresses another nation can never be free." At the close of his speech, Odeh praised protesters in the U.S. for pushing back on Trump's Muslim and refugee ban.
A panel discussion titled "Human Rights: Views from the Field" looked at the nuts and bolts of the Israeli occupation of the Palestinian Territories. The discussion moderated by Dahlia Scheindlin, a policy fellow with Mitvim and +972 Magazine columnist, included Tania Hary, executive director of Gisha – Legal Center for Freedom of Movement; Yuli Novak, executive director of Breaking the Silence; and Galia Golan, of Combatants for Peace. A late addition to the panel was Rabbi Arik Ascherman, formerly of Rabbis for Human Rights and now with an organization he founded called Haqal – United in Defense of Human Rights.
Novak told the packed meeting room about the Israel Defense Forces (IDF) practice of "mapping," which involves selecting homes in the West Bank, which are entered at night. Soldiers make a map of the house, take pictures and interrogate the residents.
"Why do that kind of practice?" asked Novak. "In order to control millions of people… you cannot use force all the time." Instead, the IDF instills fear in law abiding Palestinians. The IDF commanders say, "We need to make our presence felt," she related, and added, "There is no moral way to conduct an occupation."
It was somewhat amusing to watch a panel of accomplished Middle East officials and academic experts, from Israel and the U.S., puzzle over what President Trump might have in mind regarding an Israeli-Palestinian peace deal — a project he assigned to his 36-year-old son-in-law Jared Kushner.
Trump, during a press conference last month with Bibi Netanyahu surprised most observers with his offhand comment: "I'm looking at two-state and one-state, and I like the one that both parties like." Sen. Bernie Sanders, D-Vt., in his well-received speech to the J Street conference, said Trump's comment was "as if someone asked him whether he preferred Coke to Pepsi."
And in a panel titled "Conflicts, Chaos and Opportunity in the Middle East," which was moderated by St. Louis Park native and New York Times columnist Tom Friedman, former U.S. ambassador to Israel Martin Indyk responded to a question about the health of the two-state solution.
"I think it's dead," declared Indyk, who then added, "In the Holy Land, there's a difference between being dead and being dead and buried."
Indyk noted that optimistic Americans approach the Middle East with the notion that "every problem has a solution." He warned, "Don't be naïve, don't be taken in." And vis-à-vis Trump's son-in-law peace envoy — who has "no exposure to the Palestinians" — Indyk advised, "This cannot be done without the State Department."
In view of failed efforts over many year to facilitate a peace deal, it apparently cannot be done with the State Department, either.
The J Street conference on the whole was fascinating, including the casual conversations in the hallways of the convention center. I got the chance to meet people in person who were only known to me through their writings or email correspondence.
And one of the high points of the conference was Israeli director Shimon Dotan's presentation of some clips from The Settlers, a fascinating documentary that trace the growth of Israel's Jewish settler movement and the religious extremists that now dictate Israeli government policies. Dotan focuses on the radical faction of settlers. It's an absorbing film, what I saw of it, and I look forward to seeing the complete documentary sometime soon.
(American Jewish World, 3.10.17)