Wednesday, July 13th, 2016...12:36 pm
Complicated family tale
Jump to Comments
The Beauty Queen of Jerusalem, by Sarit Yishai-Levi, St. Martin's, 374 pages, $25.99.
Reviewed by NEAL GENDLER
Luna Ermosa, sarcastically called "the Beauty Queen of Jerusalem" by her neglected, suffering mother, personifies the "skin-deep" cliché.
Oldest of three daughters, gorgeous Luna, "the woman who had the most beautiful legs in Jerusalem," is the apple of her father's eye but incorrigible, skipping school, treating her mother with contempt, and interested only in herself, her clothes and her appearance.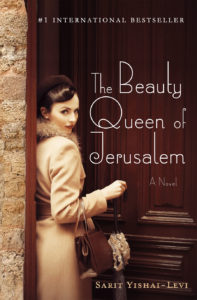 "Thin and fragile, always dressed in well-cut suits that showed off her slim waist, with high heels like those in the magazines at the seamstress' who'd made [her] clothes according to Hollywood fashion," with perfect hair and red-polished nails, she'd quit high school, sold clothes and held hordes of male admirers at arm's length.
She's the title character of Sarit Yishai-Levi's hit novel, The Beauty Queen of Jerusalem, but the real star is her family of Spanish-descended Jews, its generations' fortunes rising and falling amid the closed social milieu of Ladino-speaking Jerusalemites under the hated Turks, then the British – hated equally if not more – and then independence.
May the literati of the world forgive me, but Beauty Queen, which the publisher calls "a record-breaking Israeli best-seller for two years and counting," seems something of a classy historical soap opera, a complex, educational but profoundly sad story of intra-family strife, unending hatreds and dysfunctional households.
The story, translated from Hebrew by Anthony Berris, switches a bit confusingly among voices, beginning with Luna's daughter Gabriela – who fulfills her grandmother's outburst that Luna should have children equally difficult. As a child, nestled on Grandmother Rosa's lap, Gabriela learns the basic family history. Rosa says there's a family curse: unloving husbands. As a teen, Gabriela wheedles an unvarnished version from a great-aunt to whom she has fled.
In his youth, great-grandfather Rafael was mesmerized when he encountered a blonde girl with blue eyes, golden braids and "skin white as snow." Rosa calls her an "Ishkenazi," forbidden to him, but her image haunts his life. He marries within the "Spaniol" community, wife Mercada having a separate bedroom and scant, unenjoyable sex.
Decades later, their handsome son Gabriel, running the family's burgeoning food shop in Jerusalem's Mahane Yehuda, encounters the blonde and her perfect-copy daughter, Rochel, with whom he begins a scandalous, passionate, apparently chaste affair. When Rafael dies in his sleep, Mercada blames Gabriel's romance, makes him swear to abandon the "Ashkenazia," and punishes him with marriage to Rosa, an unattractive, illiterate teen orphan working as a servant to the British.
Gabriel respects Rosa but gives her no love. Master of his household, only he has any control of Luna, who disdainfully calls Rosa a cleaner of English toilets. Younger daughters Rachelika and Becky respect Rosa. Rachelika becomes Luna's confidante and family peacemaker.
Around 1945, Luna is swept off her feet by handsome David, just back from the British army but secretly yearning for wartime Italian love Isabella. David's best friend, dark-hued Moise – an acceptable half-Spaniol, half-Maghrebi fluent in Ladino – marries less-glamorous Rachel. As Gabriel's health fails, they struggle to run the business, dying amid intensifying Jewish-Arab-British conflict.
Unlike the others, Moise and Rebecca enjoy love. Youngest sister Becky eventually will wed her devoted teenage crush, handsome Eli Cohen.
All that's just a dent in the Ermosa family's complications, which include Gabriela's troubled romance. Particularly interesting is the depth of the Sephardi community's self-containment and dismissal of Ashkenazi Jews, with whom marriage would be disgraceful.
Yishai-Levi overdoses us on Spanish or Ladino expressions, most of them Greek to me, and David's brief account of battles in Italy seems out of order but is too vague for argument. The author has a British police "jeep" drive up in the 1930s, but American Bantam Car delivered the first jeep only in September 1940.
Beauty Queen combines a multi-layered tale with a uniquely Israeli setting of societal division; bombings, one of which nearly kills Luna; British-Jewish fissures; surreptitious Irgun poster-hanging, and Lehi's Jewish terrorists. You keep turning the pages, holding your breath for the next calamity.
***
Neal Gendler is a Minneapolis writer and editor.
(American Jewish World, 7.15.16)