Wednesday, May 3rd, 2017...11:31 am
City of Secrets: The lives of survivors
Jump to Comments
City of Secrets, by Stewart O'Nan, Penguin, 194 pages, $15
Reviewed by NEAL GENDLER
One of the loneliest scenes I've read is Shoah survivor and cab driver Brand's one-person seder in his tiny, barren Jerusalem apartment overlooking a graveyard.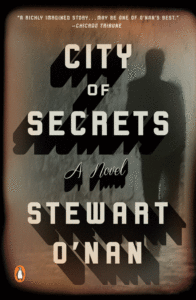 An illegal immigrant disguised and renamed Jossi Jorgenen, Brand has neither family nor friends, only his work and the frequent companionship of Eva, a survivor working as a prostitute, which helps her gather information for the Jewish underground.
In his compact City of Secrets, newly out in paperback, novelist Stewart O'Nan engagingly tells of the entwined survivors' joyless lives after losing everything but their memories, which they struggle to suppress. The setting is the chaotic postwar British Mandate and an imagined peek into the underground Hanaga, supposedly opposed to the violence of Menachem Begin's Irgun Tzvai Leumi, which used explosives and gunfire against Arabs and to drive out the British.
O'Nan, author of 15 previous novels including Last Night at the Lobster, offers no clue about having been to Israel, but he displays a reasonable knowledge of Jerusalem's buildings and pre-state geography. With economy, he also paints a picture of pre-independence Jerusalem — including its extensive barbed wire — as Brand makes the rounds of religious sites, driving "simple tourists, there to document their trip to the Holy Land for the folks back home and disappointed at the wax-museum shabbiness of it all."
Real people do appear, such as widowed Arab socialite Katy Antonius, here host of a dinner-dance at the King David Hotel.
Widowed Eva, once a Lithuanian actress, is disfigured by a facial scar. Brand, who lost his family, was from Latvia and survived the Russians, then the Germans, then the Russians again — by chance and because he could repair engines. After the war, he made his way to Jerusalem, his mother's lifelong dream, where "like so many refuges, he drove a taxi, provided, like his papers, by the underground." He kept it immaculate for legitimate passengers — gathering intelligence from their conversations — and for transporting Eva and members of an underground cell in which he seems less than a full member and which appears to be joining with the Irgun.
Except for Eva, a relationship more mutual of convenience than romance, he is hollow. In bed with Eva, he has flashbacks to his murdered young wife Katya. He recalls Pesach in Riga and his extended family, everything now "swept away, burned to cinders like the chametz," Brand "the last remaining crumb."
Freed from that last Egypt, "the problem, he thought, was that he was still alive. He wasn't weak enough to kill himself, but he wasn't strong enough to stop wanting to. There was always the question of what to do with his old life, memory seething inside him like a disease."
Reading indifferently of five Nazis being hung in Riga, he drinks Johnny Walker, thinking: "His old life was over, his new one a shambles and a sham … Why was Katya dead and Eva alive?"
Brand participates a failed attack on a power substation and a successful holdup of a train carrying the British payroll. After the latter, he's praised for saving a colleague's life, which makes him begin to feel like a man again "after being an animal for so long."
Eventually arrested, he's moved along between rows of British paratroopers armed with Tommy guns, flashing him back to a similar scene with his wife at a train station in Latvia.
O'Nan's writing and plotting are spare, but he keeps you turning the pages with a result that's entertaining despite the depression of its characters.
His acknowledgements begin with a brief historical background and a list of books used as references — most pretty good reading — and his thanks for period information gleaned from works by five of Israel's leading writers, all of whom coincidentally have first or last names beginning in English with the letter A.
City of Secrets and its protagonists swirl to an ending too unexpected even to suggest.
***
Neal Gendler is a Minneapolis writer and editor.
(American Jewish World, 5.5.17)