Wednesday, September 21st, 2016...10:47 am
As Israel and the U.S. drift apart
Jump to Comments
Our Separate Ways: The struggle for the Future of the U.S.-Israeli Alliance, by Dana Allin and Steven Simon, PublicAffairs, 284 pages, $26.99.
Reviewed by NEAL GENDLER
Demographic and political changes are pushing Israel and the United States apart, say Dana Allin and Steven Simon, and they suggest dramatic, perhaps impossible action to try to reverse the trend.
The authors "worry that many Americans and Israelis are in denial about those changes," and that estrangement from Israel "would poison American discourse far into the future."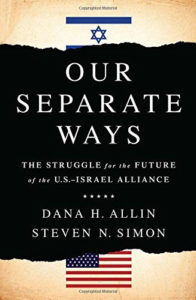 Bad blood between the Obama administration and the Netanyahu government "is a symptom, not the cause of serious underlying problems," they say, and the U.S.-Israeli alliance is "at risk of being fundamentally transformed by long-term trends in both countries that will be impossible to stop and difficult to manage."
The authors say "Israel is moving right while America moves gently but perceptively left," calling Israel's transformation partly demographic and partly "the grimly logical response to its tragic predicament and formation over a century of war."
America's leftward movement doesn't necessarily mean hostility to Israel, but it could create expectations "that Israel could be unwilling, or even unable, to meet."
Allin and Simon contrast young Israelis' growing interest in religion – and religious nationalism — and young Americans' increasing disinterest in religion. That includes young Jews, whose low affiliation and high intermarriage rates further distance them from Jewish focus and diminish Jewish political clout.
The authors quote Hillary Clinton, writing that American boomers' children don't "remember our shared past … didn't see Israel in a fight for survival again and again," and that young Israelis "didn't see the United States broker peace at Camp David or … stand behind Israel when it was attacked."
Also negative are a growing change in American's image of Israel from "courageous and humane warrior kibbutzniks … to religious settlers of occupied territory," and increased U.S. political polarization, with Israel's strongest support moving to the Republican Party, a worrisome diminution of historical bipartisan support.
Neither sensationalist nor outrageous, Our Separate Ways likely won't get the high readership its excellence deserves. Clear but tightly packed, it provides serious, attention-holding analysis of the moral and emotional link between the two nations and why this link is fraying.
Its uncommonly qualified authors say they're from "that postwar generation of Americans who were viscerally connected to Zionism."
Allin, who is not Jewish, is a senior fellow for U.S. foreign policy and transatlantic affairs at the International Institute for Strategic Studies. Simon, a Jew raised in an Orthodox home, served in the State Department and was the National Security Council's senior director for Middle Eastern and North African Affairs, giving him first-hand knowledge of Obama's positions and actions.
They say "there is not a shred of evidence" that Obama is at heart hostile to the Jewish state, and "considerable evidence to the contrary." But "the viability of the U.S.-Israel alliance is strained when the two countries disagree fundamentally about how to deal with the key strategic issues — Iran and the Palestinians — that concern them both."
While not uncritical of Israel, the authors explain how several regrettable Israeli decisions seemed correct at the time. For example: Israel's opposition to the Iran deal was very counterproductive and showed that Israel and the United States had "radically different priorities," they say, yet "Israelis were not crazy to worry that the lifting of sanctions would strengthen an implacable enemy."
Near the end, the authors propose "a grand bargain": a U.S. peace plan with a defense treaty, freeze of settlements with dismantling of some, and final-status negotiations. That, of course, presumes Palestinian Arabs would agree, which they have refused since to do 1937.
Separate Ways stands far above the crowded field of know-it-all books about Israel by not lecturing Israelis about what they should do and by the depth of its authors' knowledge — including, for a change, knowledge about Jews. Allin and Simon calmly dissect reality, not forgetting that Israel is surrounded by populations that hate it, even in the two nations where leaders have made peace.
Clear analysis doesn't mend American-Israeli relations, but it enables us to see, understand and address the reasons.
***
Neal Gendler is a Minneapolis writer and editor.
Steven Simon will discuss his book, Our Separate Ways: The Struggle for the Future of the US-Israel Alliance, 7 p.m. Thursday, Sept. 29 at the St. Paul JCC, 1375 St. Paul Ave. All tickets sold at the door the day of the event will be $12. To receive the JCC member value price of $8, JCC members must purchase tickets in advance. For more information, visit stpauljcc.org.
(American Jewish World, 9.23.16)