Wednesday, December 14th, 2016...10:31 am
Amos Oz's difficult people
Jump to Comments
Judas, by Amos Oz, Houghton Mifflin Harcourt, 320 pages, $25
Reviewed by Neal Gendler
Put three dysfunctional people in an old house that's downhill at the end of the road — perhaps also figuratively for its occupants — and what do you get?
Arguments about the creation of Israel, the unlikely prospects for peace and Christian anti-Semitism, of course.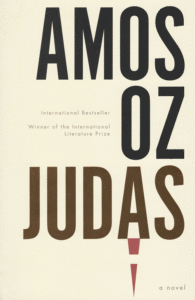 That doesn't become clear until well into Judas, the latest engrossing novel by acclaimed Israeli author Amos Oz.
The story is set in rainy, divided Jerusalem of winter 1959. Shmuel Ash, an emotional 25-year-old (or so) with an enlarged heart, asthma and behaviors suggesting mild autism, has dropped out of college for lack of money. His master's thesis on the Jewish view of Jesus is stalled, his girlfriend has left him and his tiny Socialist club splits over Nikita Khrushchev's speech exposing Stalin's murderous abuses.
"Each day of his life seemed to him like a laborious, circular obstacle source," Oz writes. Ash is "kindhearted, generous, brimming with goodwill, but at the same time … muddled and impatient," a good lecturer but poor listener with weak social skills.
Oz several times describes stocky Ash's walk: "his head butting forward and his body dragged after, legs struggling not to be left behind."
A clean but unkempt intellectual inspiring more pity than love, unattractive Ash knows his limitations. He takes a live-in job as evening companion for feisty, semi-disabled, retired history teacher Gershom Wald, conversing with him from 5 to 11 p.m., making him tea, fueling and lighting the space heater, feeding the fish and serving Wald his porridge dinner.
The house, once home to Shealtiel Abravanel, also holds his daughter, Atalia Abravanel — bitter, remote and beautiful, her four decades hinted only by her hands' thinning skin. She and Wald share sad secrets that unfold slowly, keeping you glued to the pages.
Shealtiel Abravanel, cultured, multilingual, elegantly dressed, had many erudite Arabs friends and believed that Jews and Arabs could live together amicably — that creating a Jewish state would be a mistake causing endless conflict. Among the Zionist executive, he alone opposed independence, for which he was expelled in December 1947.
Called traitor, Abravanel lived reclusively two years more, like a Judas, sharing sorrow with Atalia and Wald.
Oz, often lambasted for his leftist views, has Wald ridiculing Abravanel's belief in Jewish-Arab amity "if only the misunderstandings between them were removed." Wald says Jews and Arabs understand each other perfectly: "The local Arabs cling to this land because it is their only land…and we cling to this land for the very same reason." He says: "Arabs would not tolerate our presence here even if we abandoned the idea of setting up a Jewish state."
As Wald predicts, Ash soon lusts for unreachable Atalia. Meanwhile, he develops a theory that Judas Iscariot was not a betrayer but the one true believer in Jesus' divinity, arranging for the crucifixion so Jesus can come down from the cross, proving he's the messiah.
Ash notes that 30 pieces of silver would mean nothing to wealthy Judas. Further, the Romans knew who Jesus was and didn't need Judas to identify him, and that among the disciples, only Judas is so distraught at Jesus' death that he hangs himself.
"Jesus and all his apostles were Jews," Ash says, "but in the Christian imagination, the only one remembered as a Jew — and who represented the Jewish people — was Judas," considered for millennia "the archetypal, the most heinous and most despicable." The Jew. Ash concludes that Christians got it wrong.
Oz's masterful little diversions include symbolism or false hints of it: the danger of injury when entering the house and the repeated descriptions — a cut-glass British Mandate street lamp providing little light but many scattered shadows and Ash's daily lunch of spicy goulash soup, slices of white bread and fruit compote dessert. Maybe representing his mixed-up mind, bland life and sweet dreams of Atalia? Or maybe not.
Wrapping Jews' continuing dilemmas within a sort of coming-of-age story is no simple feat. Judas, elegantly translated by Nicholas de Lange, is fascinatingly unusual, slightly sad and very hard to put down.
***
Neal Gendler is a Minneapolis writer and editor.