October 30th, 2014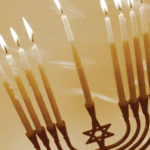 Want to see YOUR artwork on the cover of the American Jewish World?
It's time to get out the paper and markers and enter the 23rd annual AJW Hanuka Cover Contest.
We're looking for colorful drawings by budding artists (in grades 1-8). Drawings should be visual representations of the meaning of Hanuka.
The winning artwork will be published on the cover of the AJW's Dec. 5 Hanuka special edition.
The artwork should be in a VERTICAL format.
For all the details, click HERE.
The deadline for artwork submissions is 5 p.m. Wednesday, Nov. 26.
Entries should be sent to: AJW Cover Art, 4820 Minnetonka Blvd., Suite 104, Minneapolis, MN 55416.