February 25th, 2015
A Brief Stop on the Road from Auschwitz, by Göran Rosenberg, Other Press, 331 pages, $24.95
Reviewed by NEAL GENDLER
Two tragedies ruined the life of Göran Rosenberg's father, once a third-year student in a Polish textile college.
The first was the Shoah, which ripped him from his world, then destroyed it. The second took longer, starting at age 24, when he and 30,000 other survivors were brought to Sweden for rehabilitation.
Posthumously addressing his father in A Brief Stop on the Road from Auschwitz, Rosenberg says: "You just happen to get off at the wrong station on your road from Auschwitz."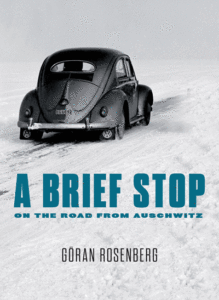 That station was at a town called the author calls "the Place," Södertälje. For other survivors, it's a pause on a journey, often to Israel or the United States. David Rosenberg's tragedy is that he stayed. Södertälje is where his life began anew, then stagnated and, in mental illness, ended.
The author, a well-known writer in Sweden, captivatingly retraces his father's road to Södertälje, starting with deportation to Auschwitz, which David Rosenberg reached on Aug, 26, 1944, in the last shipment of Jews before the destruction of the Lodz ghetto. From Auschwitz, he was sent to Germany to weld axles in a truck factory, then to an ammunition plant that soon closed because of American shelling. The prisoners were put into open freight cars that wandered for nine days until they were unloaded at Ravensbrück; one third were dead.