February 21st, 2018
Anatomy of a Genocide: The Life and Death of a Town Called Buczacz, by Omer Bartov, 398 pages, Simon & Schuster, $30
Reviewed by NEAL GENDLER
Little is needed to shatter the veneer of ethnic coexistence, as tragically illustrated in Buczacz, once an attractive city in Galicia, now in western Ukraine.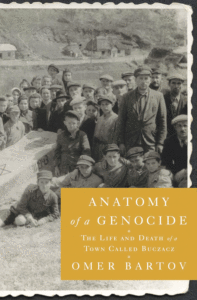 In 1921, its 13,000 people were Poles, Ukrainians and, about half the population, Jews. The groups had lived relatively amicably for centuries until World War I lifted the lid on a submerged cauldron of resentments and hatreds.
Anatomy of a Genocide, a work of 20 years, seeks to "reconstruct the life of Buczacz in all its complexity," says author Omer Bartov, a Brown University European history professor and author of four previous war and Shoah-related books.
Buczacz, birthplace of Nobel Laureate S.Y. Agnon, was taken over in 1612 by the Polish Potocki clan, which ruled for 150 years, welcoming and protecting Jews, says Bartov, whose mother was raised there. Austria took over in 1772. Keep reading →